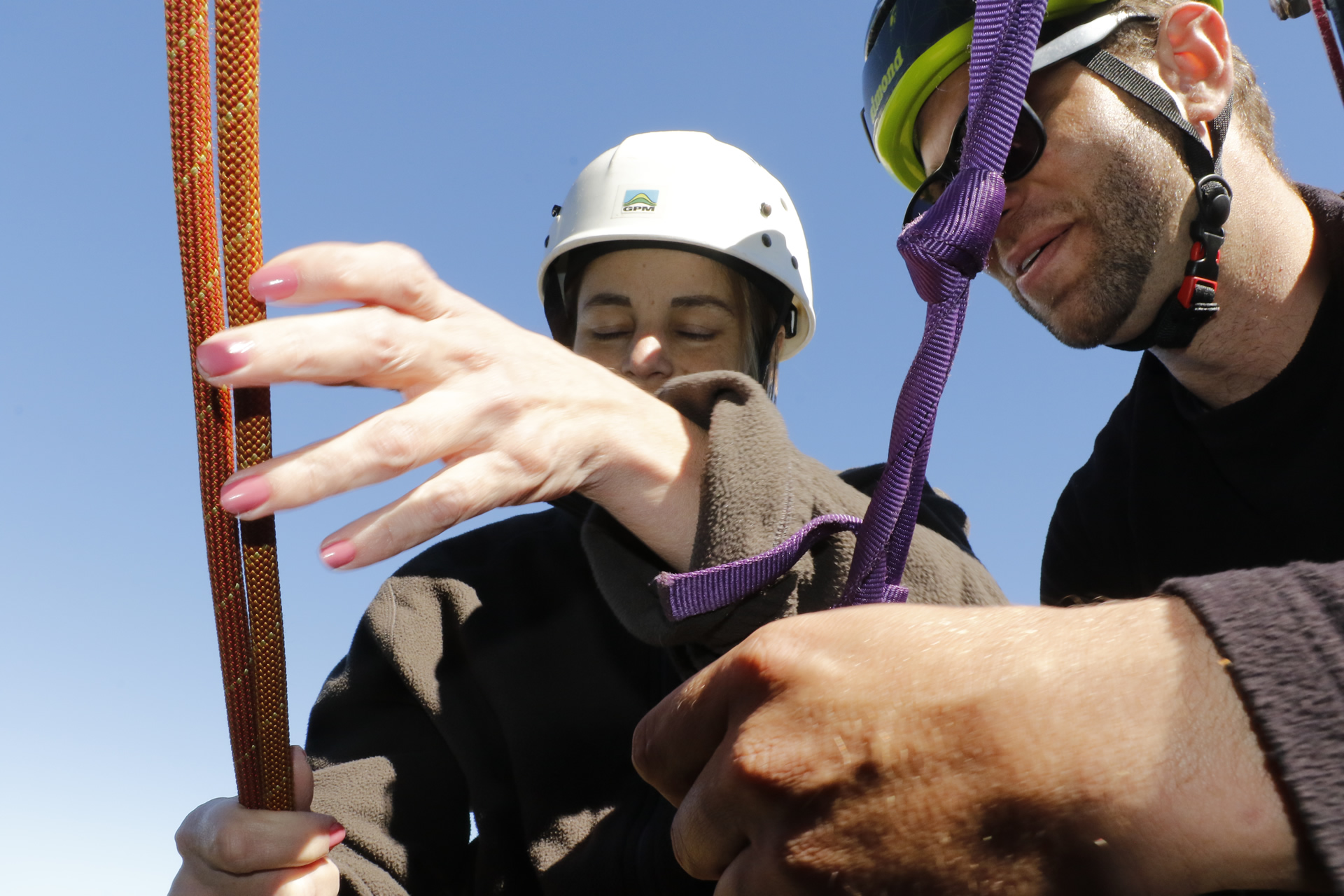 It was with great joy that we received the news that GPM's "Climb Pilot Project for the Visually Impaired" was voted "Highlight of the Year / 2016" in mountain sports by "Blog de Escalada" magazine.
In a statement, the magazine reported that:
"The GPM has decided to work voluntarily in this type of social inclusion to improve the quality of life of people with disabilities and reduced mobility giving them the necessary incentive to take steps in an unknown and full of infinite possibilities universe.

That is why in 2016, the Grupo Paulista de Montanhismo (GPM) stood out considerably from the other Brazilian clubs, for promoting the initiative of taking visually impaired people to rock climbing."
The importance of this award is even greater, because we respect, admire and recognize the great effort that the Blog de Escalada has been making, since its foundation, to inform, promote and foment mountain sports, with professionalism, seriousness and great technical quality, virtues and skills that have made it the most widely read electronic climbing and mountaineering magazine in Brazil.
This recognition motivates us to continue working hard, to reduce inequalities, and to build a fairer and better world for all through mountain sports.
We are especially grateful for being able to join social inclusion to our great passions that are climbing and mountaineering. It is great to know that we can be agents, capable of bringing about change when we are dedicated and committed to what we do and to what we believe.
We willingly set ourselves up for this action, because we see in this sport, besides the well-being provided to the body and the mind, an activity not only of recreation and leisure, but, based on the principles and values of the sport that we practice, we achieved to bring up a social action capable of including people with special needs to be among us, in this activity that has long been part of the lives of many outdoor activities lovers.
Nothing is more important to us than using this adventure sport, which is the heart of our brand in the world, as an impetus for this change to continue happening, in addition to continuing to follow the principles and values of the sport itself. Our entire project is seriously involved with the principles of life value, as well as the of the human well-being, and intensely committed in facilitating the practice of sports to people with visual impairment and reduced mobility.
Actions such as the one we carry out have a bilateral effect because, apart from these people being given the opportunity to be involved in physical and leisure activities that challenge their physical condition, it also promotes in us – those involved in the project – a new reflection on the challenges that the disabled face in their daily lives.
It is through such activities that we recognize ourselves as equals and see the difficulties of the other as our own difficulties, and we attach the desires of these people to our own desires, which is that of overcoming obstacles and continuing to overcome challenges.
This year, GPM has taken an important step towards narrowing the gap between people with disabilities and reduced mobility and mountain sports. We are just planting the first seed, there is still a lot of work to do! The social projects of the GPM will continue.
This first event, which took two participants to practice climbing in the Pedra do Santuário, in Pedra Bela / SP, aims to continue our project that is to include people with special needs to practice an adventure sport annually, as it was done with climbing .
This was our first and most important step towards the goal which we intend to achieve. We start with people with visual impairment, but we want to expand this project, and it will reach an even larger number of people with special needs. These people who, for the most part, are excluded from living in society.
To them, many services stop being offered due to the lack of projects and infrastructures adapted for people under these conditions. However, we know that these services should, by right, be part of everyday life in society at large.
Our goal with this first event is not only to include people with visual impairment or with reduced mobility in climbing and other mountain sports, but also provide them the experience of new emotions.
Through social inclusion, we want to provide participants with unique experiences that the vast majority may not yet have experienced, because they do not find options adapted to their real conditions of locomotion in this modality and do not find spaces prepared specifically for their conditions.
On the other hand, when we become available to think, plan and execute a project of this magnitude, we are immensely impacted by the learning we receive from these people. They are often held hostage by a public social inclusion system that is virtually non-existent and does not offer quality services unless partner companies come together to create and carry out a project.
For people with visual impairment, all other senses are sharpened very intensely. Therefore, taking them to climb taught us, and continues to teach us, much more about the world than we imagine knowing.
For the visually impaired, the sensations and perceptions are felt from the touch. We at GPM will keep that day forever in our memories and in our hearts. The day we had the opportunity to hear the beauty of the climb with its breathtaking scenery from a new perspective.
They did not "see", but they perceived, heard, and felt the climb through all the other senses, which are forgotten by us many times, and which we do not even realize if we are developing in a healthy way, not only for our own benefit, but also for the purpose of helping others.
On that particular day, we had the opportunity to know again a landscape that had been seen countless times by us, and by so many other climbers, but this time, in a whole new way, through those who see far beyond what the eyes can see.
Having them with us in this activity has given back to each one of us a new sense of what living a full life is. With the visually impaired we have the chance of learning how to develop and exercise all the other senses that over time we use so automatically, forgetting the sensations they arouse in us. Visually impaired people teach us to perceive the world from another angle that is not based only on what our eyes are capable of identifying.
Our desire through this project of inclusion is to be the motivating force capable of moving souls, minds and hearts. We are moving towards this cause that is unique: the cause of making all these people not only participate in an isolated event, but to feel part of this sport that is the air we breathe and that makes our hearts throb louder.
The differences become the same when people are placed in a group that accepts them, because they add moral values and respect for others, with everyone having the same rights and receiving the same opportunities before life. We at GPM are very proud to be a part of these changes.
Our commitment is to continue to create possibilities for more people with visual impairment and reduced mobility to feel part of this incredible sport, often seen as "impossible" to be practiced by many people because of their physical limitations.
We believe that social inclusion is an indispensable humanization exercise in a society that wants to be fair. It is very important to know that in addition to knowledge, through this action, we add value to ourselves when we move from a homogeneous group of people to a group rich in diversity, experience and worldview.
In a plural group, mutual collaboration and interpersonal relationships must be stimulated and developed with the goal of better living in society, as well as for being profoundly enriching for all of us.
We know that this is a task that involves a lot of work and dedication, and it is for this reason that we can not fail to say that this whole enterprise has brought to the whole GPM team and its volunteers a great feeling of satisfaction for being committed to this cause.
It is an honor for us to know that we are being recognized for broadening the horizons of a sporting modality that often has been spread as a sport possible only for a small portion of athletes.
Conducting visually impaired participants has made us more sensitive to the challenges of the other, and teaches us day by day that no technical skill is more important than the will and the desire to overcome challenges.
We are overcoming our challenges by including them in a sport that surely requires responsibility and a lot of technical skill, but at the same time, we are helping them to overcome their limits, enabling those participants to have access to natural environments and the right to participate in many other activities.
It is with this desire and this will that the GPM will continue striding, carrying on with this project on new dates, to continue making the climbing and the mountaineering a sport within reach of all.
Being at the forefront of a project of this greatness, – for us who understand the challenges of implanting it and making it possible, – has brought to the Grupo Paulista de Montanhismo the conviction that together we can make things different and better. To see it being widely publicized and receiving the support of numerous partners whom we admire and respect, gives us the certainty that we are on the right path towards the continuation of our social projects.
For us, this is the reward of a project that involved many hours of work and dedication, until the moment of its execution.
Last but not least, we would like to point out that the entire project has been developed and implemented on all safety rules, both for the responsible technicians and for the participants. All the involved team is qualified to hold this event. We will continue to improve our technical knowledge so that we can innovate and achieve it within the strictest security standards.
Congratulations to Fernanda Araújo and Leandro da Silva, our first two visually impaired climbers, for their determination, willpower, courage and great overcoming spirit.
Our heartfelt thanks go to the whole volunteers body and our business partners. Withou your tremendous effort, commitment and dedication, none of this would have been possible.
Click here to see 'The Mountain Sports Highlights of 2016'. (text in portuguese)
If you have not yet read the article 'Get to know the Inclusive Project that delivers the Climbing Practice for People with Visual Impairment', then click here. (text in portuguese)